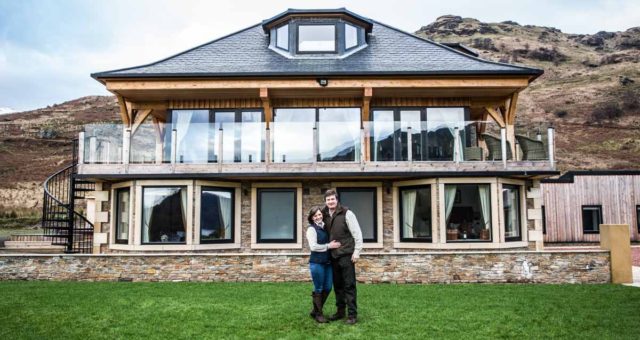 Carrick Castle Estate Wedding Venue – Loch Goil Weddings
Carrick Castle Estate wedding venue.
On the shores of Loch Goil stands the Carrick Castle Lodge at Carrick Castle Estate. In early January 2018 I was lucky enough to receive a tour of this stunning wedding venue. Carrick Castle Estate is set in an area of outstanding beauty and the Lodge has been finished to the highest standard, complete with 7 luxury bedrooms, steam room, hot tub and grand piano to name a few. Inside the lodge there is a contemporary meets antique feel, with plenty of gorgeous natural light, and showcasing of the stunning views that this venue has to offer.
This wedding venue comes with a whole load of outside space, perfect for making your own for your wedding day. Unlike many wedding venues, Carrick Castle Estate gives you the freedom to have your wedding how you want it. Maybe that doesn't sound like a big deal, but from my experience this is oh so rare! Having the flexibility to do things your way is such a refreshing change from the norm with wedding venues. This is perfect for your classic outdoor wedding, or for those brides wanting to showcase their creativity the sky is truly the limit.
The estate is run by the Mellet's, a lovely husband and wife team who live on site with their two children. They have worked really hard on the estate to get it up to such a high standard, and are currently in the process of converting two nearby properties to add to the Carrick Castle Estate. This will mean much more accommodation for wedding guests, making this a perfect destination wedding venue. The loch is also surrounded by many holiday cottages, so there is plenty of extra accommodation for those planning a big wedding with many guests needing to stay locally.
Hannah Mellet will be your point of contact at the Carrick Castle Estate wedding venue and she will be there to help you with your planning for your special day. She has great local knowledge and has put a list together of all the best local suppliers to help guide you with making your arrangements. Having someone on side who you can trust to be super organised and helpful, as well as being really friendly and putting you at ease is just what every bride needs when planning her wedding.
If you would like to check out the Carrick Castle Estate wedding venue, then check out their website here. They are just at the beginning of their journey as a wedding venue in Scotland, but I feel they will be seriously popular in no time. I would definitely recommend viewing this venue and giving it some serious consideration as your chosen wedding venue. You can keep up to date with the comings and goings of the estate by liking their Facebook page.
If you're thinking of booking the Carrick Castle Estate for your big day and are looking for a wedding photographer then please check out the weddings page for more details on my wedding photography coverage.